Breast Augmentation Revision
Conveniently located to serve the areas of New York, NY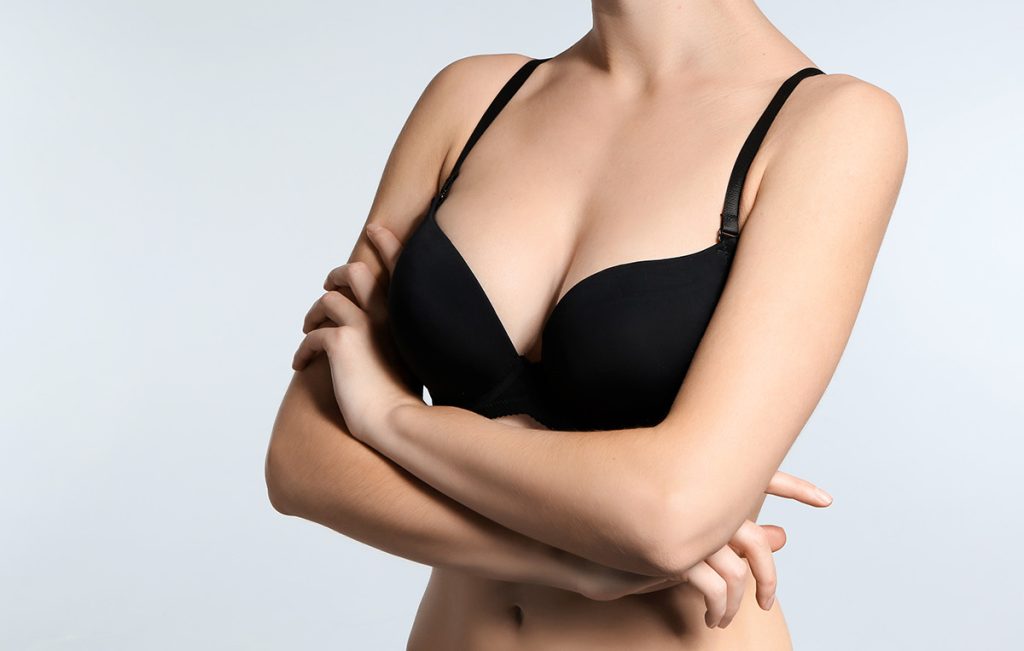 Breast augmentation is a popular procedure that enhances the shape, size, and overall appearance of the breasts. However, sometimes patients may experience issues or changes with their breast implants over time. In such cases, a breast augmentation revision may be necessary to address their concerns and achieve their desired results.
Experienced board-certified plastic surgeon John E. Sherman, MD, FACS understands that each patient has unique needs and goals. Whether you are seeking breast implant replacement, correction of breast asymmetry, treatment for capsular contracture, or addressing other complications related to breast implants, Dr. Sherman can provide personalized solutions tailored to your specific situation.
If you are considering breast augmentation revision surgery, we invite you to schedule a consultation with Dr. Sherman at our New York office. Contact us today at (212) 535-2300 or fill out our online form to take the first step towards achieving the beautiful, balanced breasts you desire.
About Implant Revision
Breast augmentation is among the most performed cosmetic procedures in the country, with over 300,000 performed annually. (1) Revision surgery offers a solution for patients who are experiencing issues or dissatisfaction with their previous breast augmentation. Whether it's implant-related complications, changes in aesthetic preferences, or the desire for a different size or shape, our team is dedicated to helping you achieve your desired results.
Implant Replacement
Breast implant replacement is a common procedure within breast augmentation revision. Over time, implants may develop complications such as capsular contracture, implant rupture, or malposition. Dr. Sherman is experienced in addressing these concerns, ensuring that your breasts not only look natural but also feel comfortable and secure.
Breast Implant Exchange
Breast implant exchange allows for the removal of existing implants and the insertion of new ones, addressing any concerns or changes you may have regarding size, shape, or material.
Implant Removal
Some individuals may choose to have their breast implants removed due to personal preferences or medical reasons. Revision surgery can involve removing implants permanently, performing a breast lift or fat transfer procedure instead.
What is Capsular Contracture?
The most common reason for breast augmentation revision is capsular contracture. (2) Capsular contracture is a medical condition that occurs when excessive scar tissue forms around breast implants, leading to hardening and distortion of the breasts. This condition can cause discomfort, pain, and a visibly unnatural appearance.
Many individuals with capsular contracture experience varying levels of discomfort, ranging from tightness to pain or tenderness in the affected area. In severe cases, capsular contracture can also cause the breast implants to shift from their initial position, further exacerbating aesthetic concerns.
Corrective breast augmentation involves a thorough assessment of your unique needs and goals. We take into account factors such as implant position, symmetry, size, and overall breast appearance. By carefully evaluating these elements, we can determine the most appropriate course of action to achieve the desired outcome.
Benefits of Breast Augmentation Revision
Improved Appearance
Enhanced Self-Confidence
Restored Symmetry
Corrected Implant Position
Balanced Breast Size and Shape
Increased Clothing Options
Improved Body Proportions
Reduced Discomfort or Pain
Receiving help for breast augmentation revision from an experienced, board-certified surgeon is vital to ensure you get the most effective treatment. With over 40 years of experience, Dr. Sherman uses surgical techniques that prioritize natural-looking results. Through careful selection of implant type, size, and placement, he aims to achieve a result that seamlessly integrates with your existing breast tissue, creating a natural and beautiful outcome.
Candidates for Breast Implant Revision
Candidates for breast augmentation revision are individuals who have undergone a previous breast augmentation procedure and are experiencing complications or unsatisfactory results. In many instances, capsular contracture and other complications can leave the breasts appearing asymmetrical or even painful. In these cases, Dr. Sherman can provide expert assistance to find the most suitable treatment plan for every patient's needs.
Personal Consultation
To begin your breast augmentation revision journey, we invite you to schedule a personal consultation at our state-of-the-art facility in New York City. During this comprehensive consultation, Dr. Sherman will take the time to thoroughly assess your unique situation and discuss your specific cosmetic concerns. Understanding your medical history, including your initial breast augmentation procedure, is crucial in formulating the most appropriate treatment plan..
Dr. Sherman will conduct a meticulous evaluation of your breasts, examining the current condition of your implants, surrounding tissues, and overall breast aesthetics. This thorough assessment allows him to identify any issues such as implant malposition, capsular contracture, asymmetry, rippling, or implant rupture. By understanding the underlying causes of dissatisfaction, Dr. Sherman can recommend a personalized approach to address your concerns effectively.
Preparation
To ensure your safety during surgery, Dr. Sherman will order pre-surgery tests and screenings. These may include blood work, imaging studies, or other diagnostic tests. He will also ask you to follow similar guidance to what you received for your initial breast augmentation, such as following smoking cessation advice and stopping certain medications.
Dr. Sherman will select the appropriate anesthesia option and discuss any additional procedures that may be necessary. Every patient's recovery timeline is unique, but Dr. Sherman will give you a general idea of what to expect during your recovery period. He will discuss the expected duration of swelling, bruising, and discomfort, as well as when you can resume normal activities.
Breast Augmentation Revision Procedure
Corrective breast surgery can encompass a range of procedures aimed at addressing complications or unsatisfactory results from previous breast augmentation surgeries. This can include capsulectomy, correcting asymmetry, revising nipple or areola position, or improving overall breast shape and contour. Dr. Sherman will outline your unique treatment plan after a thorough assessment of your needs.
Recovery
After your procedure, you will be given specific post-operative instructions tailored to your individual needs. They will be similar to those you received after your initial breast augmentation procedure. It is essential to follow these instructions diligently to promote proper healing and minimize any potential complications. You can expect some swelling, bruising, and discomfort in the first few days following surgery. However, these symptoms can be managed with medication prescribed by Dr. Sherman. It is important to avoid any strenuous activities or heavy lifting for several weeks to allow your body to heal properly.
Follow-Up Appointments
During your recovery period, it is crucial to attend follow-up appointments scheduled with Dr. Sherman. These visits are essential for monitoring your progress and ensuring that your healing is progressing as expected. Dr. Sherman will assess the incision sites, check implant placement, and address any concerns or questions you may have. Rest assured that your well-being and satisfaction are our top priorities.
How Much is Breast Augmentation Revision in New York?
Estimating the price of breast implant revision can be challenging without a thorough evaluation of your condition and desired outcome. Dr. Sherman will carefully assess your individual case and provide you with an accurate estimate during your consultation.
If you would like to learn more about the cost of breast augmentation revision and explore your options, we invite you to schedule a consultation with Dr. Sherman. Contact our office at (212) 535-2300 or complete a form for more information.
For more information about plastic surgery procedures in New York, read Dr. Sherman's blog.
FAQ
How do I know if I need breast implant replacement?
There are several reasons why you may consider breast implant replacement. These include changes in breast appearance over time, dissatisfaction with the size or shape of your current implants, experiencing complications such as capsular contracture or implant rupture, or wanting to switch to a different type or size of implant.
Is silicone implant exchange possible?
Yes, silicone implant exchange is a common procedure performed during breast augmentation revision surgery. If you currently have silicone implants and wish to change to a different size or shape, or if there is a complication with your existing silicone implants, an experienced plastic surgeon can safely remove and replace them with new silicone implants.
Can saline implants be upgraded?
Absolutely. Saline implant upgrade is a common request among patients who want to change the size or shape of their breasts. During breast augmentation revision surgery, your plastic surgeon will remove the existing saline implants and replace them with new ones that meet your desired goals and expectations.
Can breast implant size be changed during breast augmentation revision?
Yes, changing the size of breast implants is a common request during breast augmentation revision surgery. Whether you want to increase or decrease the size of your implants, your plastic surgeon will work with you to choose the appropriate size that aligns with your desired aesthetic goals.
References
Jalalabadi F, Doval AF, Neese V, Andrews E, Spiegel AJ. Breast Implant Utilization Trends in USA versus Europe and the Impact of BIA-ALCL Publications. Plastic and Reconstructive Surgery – Global Open. 2021;9(3):e3449. doi:https://doi.org/10.1097/GOX.0000000000003449
Headon H, Kasem A, Mokbel K. Capsular Contracture after Breast Augmentation: An Update for Clinical Practice. Archives of Plastic Surgery. 2015;42(5):532. doi:https://doi.org/10.5999/aps.2015.42.5.532