Tummy Tuck
Conveniently located to serve the areas of New York, NY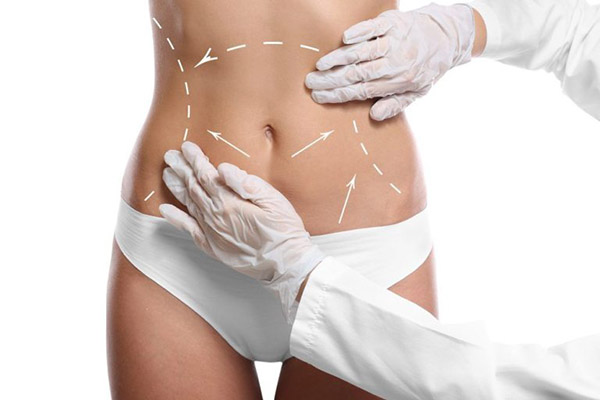 A tummy tuck is a type of cosmetic surgery that removes excess skin and fat. The procedure can tighten the abdominal muscles in this area and is commonly performed on patients who have experienced massive weight loss or after giving birth. According to the American Society of Plastic Surgeons, over 90,000 abdominoplasties were completed in 2020. [1] If loose, sagging abdominal tissue is ruining the appearance of your stomach, contact our plastic surgery and cosmetic surgery center in New York City today to schedule a consultation with John E. Sherman, MD, FACS. Dr. Sherman is a leading cosmetic surgeon in NYC and is highly experienced in performing tummy tucks. Call (212) 535-2300 to speak with a scheduling coordinator who can set up your consultation, recommend hotels in the area, and answer any other questions you may have.
Follow Dr. Sherman's blog for more tips on improving your appearance.
Before and After Photos
Abdominoplasty in New York
While the vast majority of patients are women, a small percentage of patients are men. Male abdominoplasty is usually associated with weight loss. At our plastic surgery center in New York City, abdominoplasty is one of the most frequently performed operations. Dr. Sherman carefully designs his procedural methods to improve the abdomen's appearance in male and female patients.
Various approaches can maximize the appearance and contour of the patient's abdomen, depending on the patient's abdominal laxity, weight, and skin. skin health and goals.
Full Tummy Tuck
The most common approach is a full tummy tuck, which involves a horizontal incision between the hip bones just above the pubic area. The skin and fat are then lifted off of the underlying muscles, which are tightened with sutures. Dr. Sherman excises any sagging skin, and the incisions are closed with sutures. This restores the firmness and tone of the abdomen, and may also relieve lower back pain.
Mini Tummy Tuck
The mini-abdominoplasty, also known as a mini tummy tuck, is a popular alternative to the complete procedure. It may be offered to patients that have a limited amount of skin below the umbilicus (belly button) and where the focus of repair is primarily the muscle damage with minimal skin resection.
What is the Difference Between Liposuction and Abdominoplasty?
Liposuction is a contouring procedure that can be used to get rid of pockets of excess fat from numerous areas of the body. Abdominoplasty is a contouring procedure that focuses specifically on the abdomen and is used to remove excess fat and loose skin, tighten the remaining skin and tighten sagging abdominal muscles.
Liposuction may be performed at the same time thereby adding the improvement of the contour and flanks (love handles).
What is the Best Way to Treat Hernias?
Many women are left with an umbilical hernia after pregnancy. An umbilical hernia is when the intestines push through a hole in the abdominal muscles causing the belly button to protrude. Umbilical hernias usually do not cause pain but can be unsightly. If you have an umbilical hernia, Dr. Sherman can repair it during your abdominoplasty.
An umbilical hernia is commonly found in patients who have had laparoscopy for in vitro fertilization or any type of laparoscopy through the umbilicus. Other patients have significant defects of the entire abdominal wall, which may require mesh placed behind the muscle layer. [2]
What are the Benefits of a Tummy Tuck?
A Tummy tuck has many benefits, including:
A flatter, firmer abdomen
A more proportionate figure
Improved self-image and confidence
Possible elimination of stretch marks
Correction of abdominal muscle separation (diastasis recti)
A tummy tuck can be a permanent solution to sagging skin and weak muscles in the abdomen. It can also be used to correct some functional problems caused by stretched or separated abdominal muscles.
Who is a Candidate for Abdominoplasty?
The ideal candidate for abdominoplasty is the woman trying to restore the abdomen after childbirth or anyone seeking abdominoplasty after massive weight loss. Postpartum, some women are genetically blessed with minimal damage, even after multiple pregnancies. But most women seek Dr. Sherman's help to restore their abdomen as part of the well-publicized "mommy makeover." The Mommy Makeover can include any combination of procedures, including breast augmentation or lift.
Abdominoplasty can correct two areas in women who have given birth:
The first is the separation (diastasis) of the rectus muscle, which results from the pressure of the baby and the growing uterus on the abdominal wall. Diastasis recti is compounded with each new pregnancy the woman has, further stretching the muscle sheath. In thin patients, this may be the only deformity that needs to be repaired.
In other patients, a tummy tuck addresses both the laxity of the muscle and the excessive amount of skin that has not retracted months after delivery or weight loss. In women who have had twins, the stretching and damage to the rectus are usually pronounced.
Patients contemplating additional pregnancies should wait until after they are finished with family planning to avoid unnecessary and repetitive surgery.
Personal Consultation
The best way to determine which type of procedure is right for you is to schedule a consultation with Dr. Sherman. During your consultation, Dr. Sherman will examine your abdomen and discuss your goals for surgery. He will then develop a treatment plan that is tailored to your specific needs.
Call (212) 535-2300 to speak with a scheduling coordinator in Manhattan who can set up your consultation, recommend hotels in the area, and answer any other questions you may have.
Preparing for Your Tummy Tuck
There are certain steps you will need to take in order to prepare for your abdominoplasty.
Avoid taking aspirin, ibuprofen, non-steroidal anti-inflammatory medications, and vitamin E (or multivitamins) for two weeks before and after surgery. These medications can increase bleeding.
If you have diabetes, it is important to have your condition under control before surgery. Poorly controlled diabetes can lead to problems with wound healing.
You should also arrange for someone to drive you home after surgery and stay with you for at least the first 24 hours.
We will provide you with specific instructions on how to prepare for surgery, including guidelines on eating and drinking leading up to your surgery date.
The Dangers of Cigarette Smoking and Surgery
Dr. Sherman does not perform this operation on cigarette smokers. Most of the potential complications of this operation are related to cigarette smoke, including wound healing problems. If you are a smoker, you should stop at least one month before surgery. Nicotine patches and gum substitutes are not acceptable to diminish the risk of these complications.
The Abdominoplasty Procedure
The abdominoplasty is usually performed as an outpatient procedure, which means you can return home on the day of surgery. The patient can choose our fully accredited office-based surgery center, outpatient hospital surgery, or inpatient surgery.
Dr. Sherman performs the tummy tuck operation at the New York Presbyterian Hospital — Weill Cornell Medical Center or Lenox Hill Hospital in New York. The procedure takes about two hours to complete. Different techniques may be used depending on the needs of the patient, the presence of scars, and the contour of the abdominal wall.
Anesthesia Information
Depending on the anatomy of the patient and the nature of the operation, this may be performed under general anesthesia or epidural anesthesia. All our anesthesiologists are board-certified and highly experienced.
Recovery After Abdominoplasty in New York City
Complications after the surgery are well documented. While the incidence of wound healing problems and pulmonary embolism is low, they may occur. We encourage all our patients to follow our pre-surgery guidelines and be out of bed and walking the first night after surgery; this will significantly reduce the possibility of deep vein thrombosis. [3]
Recovery after this procedure takes about 10 days to two weeks, depending upon the nature of your operation. If a hernia is repaired simultaneously, recuperation will be longer. We will provide you with post-operative instructions following your surgery, and we are always available to answer any questions or concerns you may have.
It is important to remember that this is major surgery, and you should expect some pain and discomfort during the recovery period. However, we will prescribe medication to help alleviate any discomfort.
We recommend that you take at least two weeks off from work to recover. However, some patients feel well enough to return after one week.
Follow-Up
You will have a post-operative visit with Dr. Sherman approximately one week after surgery. We will see you again at different points after that. It is important to keep all your appointments so that we can monitor your recovery and address any concerns or complications that may arise.
If you have any questions, please do not hesitate to contact us.
What are the Results of Abdominoplasty?
Most patients report excellent results following surgery with minimal scarring. The incisions are usually hidden in the underwear line or can be easily concealed with a bikini. The final result of your surgery will be apparent after the swelling and bruising have resolved, which takes several months.
It is important to remember that the results of surgery are permanent, but weight gain or pregnancy can affect your results. To keep your midline looking svelt and contoured, maintain a healthy lifestyle with a sensible diet and regular exercise.
What is the Cost of a Tummy Tuck in New York?
In certain individuals, and with several insurance carriers, insurance may apply if there is a documented hernia and repair is performed.Some insurance plans will cover the repair of the diastasis (separation) of the abdominal muscles.
In patients who have lost a massive amount of weight, the hanging of skin must be affecting the health of the patient or causing local wound problems for insurance to help cover the cost of abdominoplasty.
Otherwise, we will discuss with you the self-pay options for surgery during your consultation.
We look forward to serving you as you embark on this journey to a new you! Call our office to schedule a consultation at (212) 535-2300.
FAQ
Is abdominoplasty painful?
Because the procedure is performed under general anesthesia, it is not at all painful. During the recovery period, bruising, swelling, and discomfort are to be expected. However, medication can be provided to minimize any pain. A majority of the pain and discomfort should subside within a few days.
Will my tummy tuck results be permanent?
Abdominoplasty can provide results that last a lifetime. However, there are factors that can jeopardize your results. You need to maintain a steady body weight to preserve your results or else fat and loose skin may form again. Your abdominal tissues will also continue to age normally.
Will abdominoplasty help me lose weight?
Abdominoplasty is not a weight-loss procedure and should not be used as such. The people who benefit most from a tummy tuck are those who are around their ideal weight and are struggling with excess skin and stubborn pockets of fat on their abdomen.
When is the best time to get a tummy tuck?
There are some factors to consider before undergoing surgery that can make it easier to decide when the right time is. It is best to wait until you are done having children before your abdominoplasty in order to avoid affecting the results. You should also be at a body weight that you can comfortably maintain.
References
American Society of Plastic Surgeons. PLASTIC SURGERY STATISTICS REPORT 2020.; 2020. https://www.plasticsurgery.org/documents/News/Statistics/2020/plastic-surgery-statistics-full-report-2020.pdf
Schumpelick V, Klinge U, Junge K, Stumpf M. Incisional abdominal hernia: the open mesh repair. Langenbeck's Archives of Surgery. 2004;389(1):1-5. doi:10.1007/s00423-003-0352-z
Kyrle PA, Eichinger S. Deep vein thrombosis. The Lancet. 2005;365(9465):1163-1174. doi:10.1016/S0140-6736(05)71880-8