Gynecomastia
Conveniently located to serve the areas of New York, NY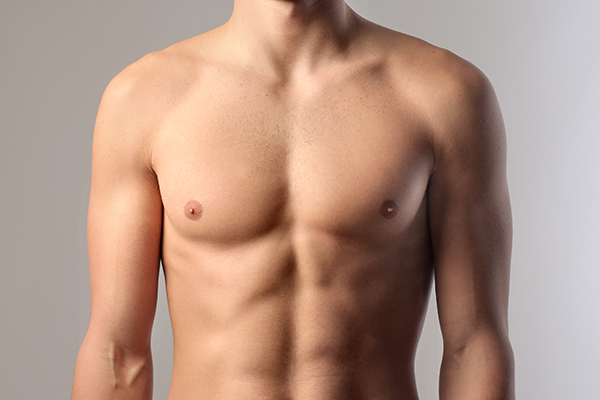 Men who suffer from gynecomastia can find relief from the issues through male breast reduction surgery. This procedure focuses on eliminating excess tissue on the chest to give it the chest a flatter and more masculine appearance. Dr. John Sherman is one of the most skilled and experienced plastic surgeons in New York City who can provide you with outstanding results from your male breast reduction.
Before and After Photos
About
Gynecomastia is a benign enlargement of the male breast. It may be the result of adolescence, or secondary to hormonal imbalance, or be drug-induced. In approximately 60 to 70% of adolescent males palpable breast tissue can be felt. This condition commonly occurs during pubescence in healthy males between the ages of 12 and 15. In most patients, the gynecomastia disappears and is not treated. It is only when it becomes large that it is noticed, and certainly can be socially inhibiting. The introduction of ultrasound liposuction (UAL) augmented with power liposuction (PAL) in this patient group has increased the effectiveness of the procedure. This is because the areas that are usually treated in men have dense fat compared to women. In the past, this has been difficult to treat. As noted above, gynecomastia occurs very commonly in adolescence.
Causes of Gynecomastia
There are numerous causes of gynecomastia that must be diagnosed and eliminated before performing any type of cosmetic surgery for the correction. Usually the patient is seen by his pediatrician or general internist to rule out these causes. There are a number of drugs that are used in the treatment of hypertension and heart disease that can cause gynecomastia. The most common drug induced gynecomastia that we see is secondary to heavy marijuana abuse.
Procedure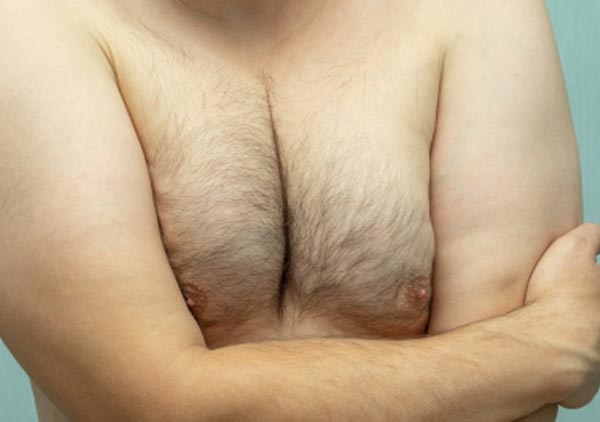 Liposuction is the first line of treatment for gynecomastia. Since the breast tissue is exceptionally fibrous and not as fat containing as normal breast tissue, ultrasound assisted liposuction is usually used. Normal manual liposuction is quite difficult in the presence of this fibrous breast tissue. Even with the ultrasound approach, a small amount of breast tissue may remain. All patients are counseled that if liposuction is not totally successful a small incision may be made around the areola for direct excision of the breast tissue. In patients with severe gynecomastia a reduction type mammoplasty might be necessary with scars that accompany this procedure. Dr. Sherman can determine the best option for treating your gynecomastia and address any question you may have about the procedure such as length, recovery, and cost during the consultation.
The operation is usually performed as an outpatient in our fully accredited office facility or at the hospital. If you choose hospital surgery, Dr. Sherman operates at the New York Presbyterian Hospital-Weil Cornell Medical Center, or Lenox Hill Hospital/Manhattan Eye, Ear and Throat Hospital.
Recovery
The patient is discharged from the hospital wearing a compressive garment to minimize pain and swelling. This garment can be discarded after approximately 4 days. Sutures are removed at one week. Occasionally if an open approach is used drains may be placed, remaining for approximately 2 to 3 days.
The most common site for liposuction in the male patient is the waist (love handles) and breasts. The treatment for gynecomastia as described below may be with simple liposuction or excision. Fat distribution may exist even if the patient is slender. This distribution of fat is inherited and is not dependent on diet or exercise.
Cost
Male breast reduction for the treatment of gynecomastia is a personalized procedure. The cost of male breast reduction will depend on factors like the type of procedure performed to provide the patient with their desired results. Our office offers financing options to make the payment process more manageable.