Breast Reduction
Conveniently located to serve the areas of New York, NY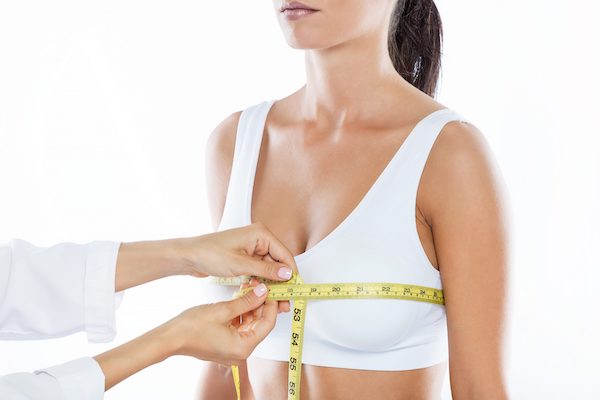 Breast reduction surgery, also known as reduction mammaplasty, is a surgical procedure that reduces the size of the breasts by removing excess fat, glandular tissue, and skin. Breast hypertrophy is a condition characterized by overly large breasts that can cause physical and emotional distress. This can lead to feelings of self-consciousness and poor self-esteem.
If you are experiencing back or neck pain, shoulder grooving, difficulty exercising, or other problems related to your breast size, breast reduction surgery may be a solution. Breast reduction surgery not only reduces breast size but also lifts and reshapes the breasts for a more youthful and proportionate appearance.
John E. Sherman, MD, FACS is a board-certified plastic surgeon who understands the physical and emotional implications of breast hypertrophy. He works with his patients to create a personalized surgical plan that meets their needs and goals. During the consultation, he will discuss the various incision techniques available, the risks and benefits of the procedure, and what to expect during recovery.If you are interested in learning more about breast reduction surgery, please complete an online inquiry form or call us at (212) 535-2300 to schedule a consultation with Dr. John Sherman at his New York office.
Before and After Photos
About Breast Hypertrophy
Breast hypertrophy refers to the enlargement of the mammary glands to a size that is disproportionate to a woman's body type. (1) This condition can be caused by various factors such as genetics, weight gain, or hormonal changes. It can lead to an array of uncomfortable effects, including the following.
Physical Discomfort
Back Pain
Neck Pain
Shoulder Pain
Skin Irritation
Clothing Style/Fit Limitations
What Are My Options?
Non-surgical treatment options for large, pendulous breasts include lifestyle changes such as weight loss and exercise, physical therapy, and supportive garments such as bras with wider straps or sports bras. However, for patients who experience severe symptoms or desire a more dramatic change, surgical intervention may be necessary.
Breast reduction surgery involves removing excess breast tissue, fat, and skin to create a smaller, more proportionate breast size. Patients may opt for the procedure to take place at a hospital on an outpatient basis or at our fully accredited office-based surgery center. Should Dr. Sherman recommend it, the patient has the ability to spend one night as an inpatient at one of the following locations.
New York Presbyterian Hospital
Weill Cornell Medical Center
Lenox Hill Hospital
If you are visiting us from outside New York, please read our helpful information page for out-of-town patients.
Breast Reduction Surgery
Many breast reduction procedures require a large amount of tissue to be removed. In these cases, one of a number of techniques can achieve effective results. Commonly, treatment involves the strategic placement of incisions around the areola and lower breast. The nipple-areola complex is then repositioned as a unit to a new position above the breast crease (inframammary fold). The surgery is performed under general anesthesia and takes about 3-4 hours to complete, depending on the patient's individualized treatment plan.
Liposuction
Some patients may not want to undergo such an involved surgical procedure as reduction mammaplasty. Fortunately, liposuction can be used to reduce the size of breasts by removing excess fat in a minimally invasive way. Typically, breast reduction with liposuction is a much shorter procedure, taking around 1-2 hours to complete.
Male Breast Reduction
Although breast reduction surgery is a common request from female patients, overdeveloped breast tissue is also seen in men. Please see our gynecomastia page for further details.
Benefits of Breast Reduction
Breast reduction surgery provides numerous benefits for patients seeking to alleviate the physical and emotional discomfort caused by overly large breasts. These include:
Physical Relief
One of the most significant benefits of breast reduction surgery is the relief it provides from chronic neck and back pain, as well as improved posture. Many women with large breasts suffer from muscle strain in their neck and shoulders, leading to pain and discomfort that can affect their daily lives. Breast reduction surgery removes excess breast tissue, reducing the weight and pressure on the upper body and allowing patients to stand taller and more comfortably.
A Boost in Body Confidence
In addition to physical relief, breast reduction surgery can also lead to increased self-esteem and confidence. Patients often report feeling happier and more comfortable after the procedure, allowing them to choose from a wider range of clothing options, move and exercise more easily, and participate in activities they may have avoided before.
Reduced Irritation
Breast reduction surgery can improve the fit of bras and clothing, reducing irritation and rubbing of the skin under the breasts. Patients may notice improvements in sleep quality, as well as easier participation in sports and exercise due to reduced breast size.
Dr. Sherman will discuss all potential benefits and risks of the procedure during the consultation process and work with patients to determine if breast reduction surgery is right for them.
Candidates for Breast Reduction
Women may seek breast reduction for physical or psychological reasons or both. (2) In many cases, patients seek treatment for chronic posture issues and embarrassment caused by excessively large breasts. The most suitable candidates:
Are non-smokers
Are in good overall health
Are within an acceptable weight range
Have no serious heart conditions
Have no undiagnosed breast lumps or causes for concern
Nicotine severely inhibits the body's ability to heal and increases your likelihood of developing an infection. If you are a smoker, or if you use any nicotine products, you must be willing to quit for 4-6 weeks either side of your procedure.
Personal Consultation
The decision to undergo plastic surgery is a personal one, and it requires careful consideration and evaluation of the patient's needs and expectations. During the consultation, Dr. Sherman takes into account a patient's medical history, body image concerns, and overall health status to determine if they are suitable candidates for the procedure.
It's important to note that breast reduction surgery is a major procedure that requires some downtime for recovery.
Preparing for Breast Reduction Surgery
To ensure a smooth process and desirable results, we will provide you with detailed preoperative instructions. These instructions may include the following.
Discontinuing certain medications, supplements, or blood thinners, which could interfere with the surgery or affect recovery.
Ceasing the use of any nicotine products in the weeks leading up to your breast reduction surgery and remaining nicotine-free throughout your recovery period.
Filling prescriptions for pain medication and antibiotics in advance of your procedure.
Coordinating a ride home and escort if sedation or general anesthesia will be used.
Arranging time off from work and social commitments to ensure adequate time to rest and recover after the surgery. Breast reduction surgery typically requires one to two weeks of downtime, depending on the extent of the procedure.
Procedure
Though no two breast reduction procedures are the same, the basic facets of each surgery are similar. After administering anesthesia, Dr. Sherman makes incisions around the areola, vertically down to the breast crease, and horizontally along the breast crease. He then removes excess breast tissue, fat, and skin, and repositions the nipple and areola to a higher, more youthful position. Finally, he reshapes and lifts the remaining breast tissue to create a more aesthetically pleasing breast contour.
Recovery
If you're considering breast reduction, it's important to understand the recovery process and what kind of results you can expect. Dr. Sherman will guide you through every step of the journey to alleviate your discomfort and help you achieve your desired goals.
After your surgery, your breasts will be secured with dressings to provide support. You will need to wear a supportive surgical bra for several weeks to keep swelling in check and support your new shape. Pain, bruising, and swelling are all expected in the first few days after surgery, but these symptoms can be managed with medication that Dr. Sherman will prescribe. Additionally, he will provide you with detailed instructions for post-operative care to ensure optimal healing and minimize complications.
When Can I Get Back To My Normal Routine?
It's important to note that returning to work or daily activities will depend on the individual patient's healing process. In most cases, you can resume light activity within a few days and return to work within two weeks. However, you should avoid strenuous physical activity and heavy lifting for at least four to six weeks.
What Will My Scarring Be Like?
One of the main concerns many patients have is scarring. Although scarring is inevitable after breast reduction surgery, Dr. Sherman takes great care to minimize it by placing incisions in discreet locations. Most scars will fade significantly over time and can be easily concealed under clothing.
Breast Reduction Results
As you heal over the coming weeks, you'll begin to see the results of your breast reduction procedure. The size and weight of your breasts will be reduced, helping to alleviate discomfort such as back pain, neck pain, and shoulder pain. Your breasts will also be more symmetrical and proportionate to your body, which can help you to improve your self-confidence and overall quality of life.
Read Dr. Sherman's blog for more information about your plastic surgery options in New York.
Cost of Breast Reduction Surgery in New York
The cost of breast reduction surgery will depend on various factors, including the extent of the surgical procedure, anesthesia, and other related expenses. During your initial consultation with Dr. Sherman, he will evaluate your unique situation and recommend the most effective course of treatment for you.
Our priority is to provide our patients with the best possible care and results. We offer customized treatment plans that cater to each patient's unique needs and goals. If you are considering breast reduction surgery, we encourage you to schedule a consultation with Dr. Sherman by calling (212) 535-2300. Our office is located in Manhattan, New York. 
References
Fonseca CC, Veiga DF, Garcia E da S, et al. Breast Hypertrophy, Reduction Mammaplasty, and Body Image. Aesthetic Surgery Journal. 2018;38(9):972-979. doi:https://doi.org/10.1093/asj/sjx271
Sachs D, Szymanski KD. Breast Reduction. PubMed. Published 2021. https://www.ncbi.nlm.nih.gov/books/NBK441974/