Facelift
Conveniently located to serve the areas of New York, NY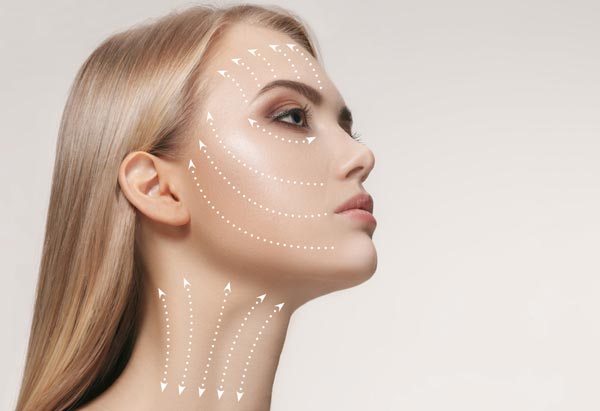 Your face is your identity. Your face leaves a lasting impression on everyone you meet and is something that you may think about on a daily basis. The appearance of your face also may impact on your self-confidence. If you don't feel good about the way you look, it can be difficult to present yourself in a confident and authentic way. A facelift offers a way to rejuvenate the appearance of your face and restore your confidence in your appearance.
The facelift is designed to address the effects that aging and other external factors have on the face. The main goal of the facelift procedure is to restore the natural contours and youthful appearance of the face. Board-certified plastic surgeon Dr. John Sherman specializes in surgical facial rejuvenation and can provide you with exceptional care and results.
Before and After Photos
Benefits
Common aesthetic issues that a facelift can address include the following:
Deep lines, folds, and wrinkles
Loose neck skin
Noticeable brow furrows
The nasolabial folds
Jawline contour
There are multiple options to choose from when it comes to your facelift. These options are specifically designed to precisely target aesthetic issues that can occur in specific areas of the face. Some places may offer options such as a liquid facelift, non-surgical facelift, or laser facelift. While these options can provide some degree of facial rejuvenation, they are not a substitute for the results that are possible through surgery.
During the initial consultation with board-certified plastic surgeon Dr. John Sherman at our plastic surgery center in New York City, he will take the time to discuss the specific benefits of each procedure. He can also address questions such as what to expect during the recovery, the cost of a facelift, and more.
Facelift Variations
Mini Facelift
A mini-facelift is the ideal option for younger patients with moderate aesthetic facial issues. This procedure focuses on rejuvenating the appearance of the mid face and jawline. In some cases, the neck skin may also be tightened. The incisions for the procedure are made behind the ears to ensure that no post-surgical marks are visible. It typically only takes around two hours to perform the procedure.
This revolutionary technique provides numerous advantages. A short-scar facelift utilizes significantly smaller incisions that are made on the inside of the ear and along the back of the ear. This procedure is able to provide a substantial amount of tightening without creating noticeable post-surgical marks that diminish the quality of your results.
This is the perfect option for patients with aesthetic issues that only occur beneath the chin and across the neck. A neck lift can be performed to correct loose neck skin, vertical neck banding, and a lack of definition along the chin and jawline. The mini-facelift and neck-lift procedures are often combined in order to provide more comprehensive results. It is especially useful for male patients who desire neck and jawline correction.
Coronal Forehead Lift
This surgical procedure is designed to address sagging excess brow skin. In order to ensure that the results look as natural as possible, the incisions for a coronal forehead lift are hidden within the hairline of the patient.
Endoscopic Forehead Lift
This variation of the brow lift requires smaller incisions and utilizes an endoscope. An endoscopic forehead lift is primarily performed to address brow furrows and forehead creases by correcting both the sagging skin and the damaged facial muscles that are causing the brow and forehead to sag.
The Expertise of Dr. Sherman
"Consistently professional and caring office led by a Dr with great expertise. A patient for more than 30 yrs and very satisfied. The feeling of confidence from speaking with Dr Sherman that we were on the same page regarding the surgery and outcome.*"

Facelift Patient
As a highly regarded teacher of plastic surgery, Dr. Sherman uses the most effective and latest techniques for your surgery. Depending on the age and the relative health of the patient, the facelift can be performed in the hospital or in our fully-accredited and equipped operating suite in New York City. Various options are used with the facelift: mini facelifts, neck tightening or brow lift.
Facial plastic surgery is usually performed in our fully accredited office surgery suite. Patients may also desire to stay one night in the hospital following surgery within a hospital facility instead of the office setting for their facelift. If you choose surgery in our clinic, we will make arrangements for you at hotels that are in walking distance of the office: The Carlyle, The Mark, the Surrey and the Marriott. We have working arrangements with all of these hotels. You will be accompanied by one of our highly experienced nurses who will take care of you overnight.
Schedule a Consultation
If you are looking for a highly experienced and skilled plastic surgeon to perform your facelift, contact our office to schedule a consultation with Dr. Sherman. Dr. Sherman has performed thousands of facelifts over the course of his career and has provided countless patients with outstanding results that look incredibly natural and satisfy their aesthetic needs.
Facelift FAQ
What Is a Facelift?
A facelift is a surgical procedure that can rejuvenate the face and neck. It does not rejuvenate the eyes or the brow. The procedure addresses not only loose skin and drooping fat but also loose muscles in order to achieve deep and lasting facial revitalization. A facelift will not stop you from aging but can be a long-term solution for a younger-looking aesthetic.
How Long Does a Facelift Last?
The results of a facelift vary from patient to patient depending on skin elasticity and external factors like smoking and sun exposure. The results of a facelift can last up to ten years. To maintain the rejuvenated appearance, you may be interested in another facelift after a decade.
Am I a Good Candidate for a Facelift?
The best candidate for a facelift is someone who has sagging skin in the mid and lower face and the neck. The procedure is a great choice for candidates who have good bone structure; this will help in achieving a more natural look. If your bone structure is weak or you have a thin face, you may need filler injections to enhance facial volume.
If your weight is stable and your health is sound, you may be a good candidate for a facelift. It is also important to have realistic expectations in terms of results.
We recommend that the patient is within ten pounds of their ideal weight to get the procedure. If you are a patient who has experienced tremendous weight loss, you will find a facelift beneficial in terms of trimming away excess sagging skin from the face and neck.
At What Age Should I Get a Facelift?
Once your facial skin and muscles begin to sag, you should consider getting a facelift. This occurs typically at ages forty to seventy. Facelifts are more effective when performed earlier than later.