Revision Rhinoplasty
Conveniently located to serve the areas of New York, NY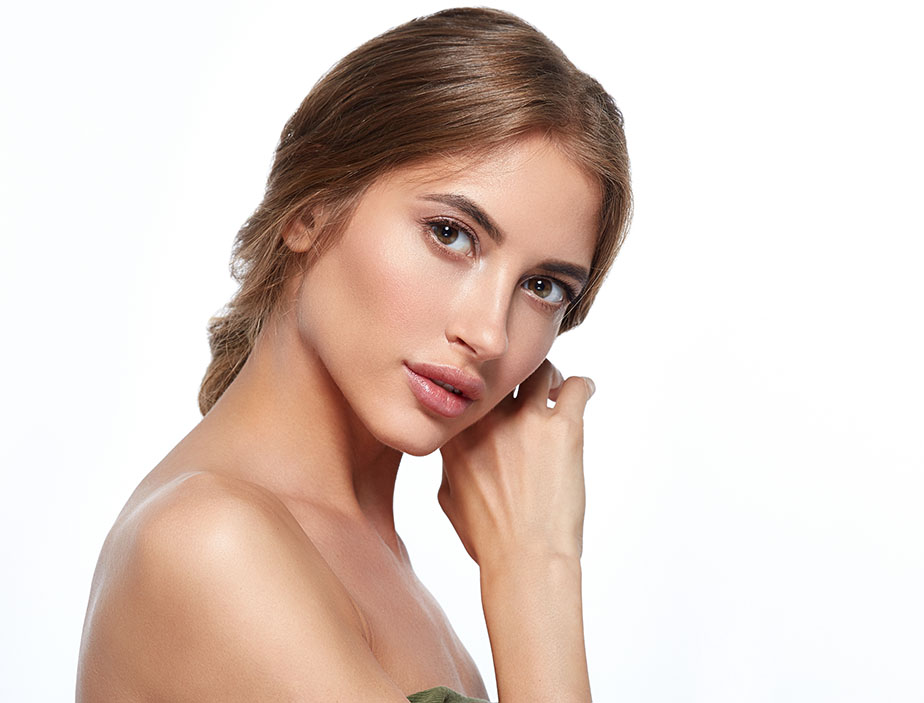 A revision rhinoplasty is a procedure that adjusts initial changes from a prior rhinoplasty. There are many reasons why a patient chooses a rhinoplasty, or "nose job". The procedure should set out to address a prominent dorsal hump, or to fix functional breathing issues from a deviated septum (septoplasty). But in some cases, final results are unexpected, warranting a second procedure to address them.
The reason why a patient chooses a rhinoplasty to begin with is to address either appearance-related or breathing-related problems. But, as is the case with such complex surgery and the unpredictability of healing, revisions are sometimes a necessity. If a primary surgery has not delivered satisfying aesthetic results, distress and that things still don't look or feel right. However, with a revision rhinoplasty procedure, a surgeon re-examines the inner cartilage, bone, and soft tissue of the nose to create the desired results.
Dr. John E. Sherman MD, FACS is one of New York's most experienced plastic surgeons. In his 40 years of practice, he has performed countless corrective craniofacial surgeries, including rhinoplasty, correction of nasal fractures, chin augmentation, otoplasty (ear surgery), and short-scar facelifts. Call Dr. Sherman's Manhattan office at (212) 535-2300 or fill out an online form to book your personal revision rhinoplasty consultation.
Before and After Photos
About Rhinoplasty
The rhinoplasty is one of the most sought-after plastic surgeries. In fact, around 200,000 Americans will opt for a nose job this year. Of that number, up to 15% of initial rhinoplasties will need readdressing, a revision rate of 1.5 in 10.(1)(2)
Deviations in nasal appearance are common. Whether it is the nose's natural angle of protrusion, a prominent dorsal hump, a curved nasal tip, asymmetrical nostrils, or other undesirable features, most people would change at least one aspect of their nose given the opportunity.
What Can Go Wrong?
There is more than one reason why a primary rhinoplasty can be unsuccessful, some of which affect a patient's ability to breathe through the nose.
Asymmetry – The nasal septum is misaligned, the nostrils or the tip of the nose are not symmetrical.
Nasal Collapse – The nasal vault, the space through which air flows, has failed.
Graft Loss – Cartilage or bone from the initial procedure has failed to assimilate into the surrounding nasal tissues, causing a "dusky", blistered appearance.
Synechiae – The ridges in the nose, the turbinates, adhere to each other, causing scarring and air flow disruption.
Rhinoplasty Revision
Rhinoplasty is, by nature, one of the most complex facial surgeries. A surgeon's task is often two-fold. Patients with functional air flow problems want them to be fixed. However, they must be fixed in such a way that the aesthetic appearance of the nose is not compromised. Additionally there may be the following issues.
Poor Prior Patient Counseling
Overzealous Surgical Technique
Unpredictable Healing/Scarring
Differing Patient/Surgeon Opinions
Nasal Trauma During Healing
Similarly, if patients forgo surgeon experience, they may find themselves in an unenviable position in the months that follow. They have gone through the entire process of rhinoplasty, including waiting around 12 months for their final results, and those results don't match their expectations!
Choosing proven results and extensive experience over any other factor is the key to a successful rhinoplasty surgery. And it doesn't have to be your initial surgeon. In fact, over 30% of revision rhinoplasty patients choose a different surgeon for their second surgery. (3)
Benefits of Revision Rhinoplasty
The benefits of a revision rhinoplasty will differ from patient to patient, depending on their reason for seeking one. The most common benefits include the following.
Creates a more harmonious, symmetrical balance to facial features
Improves nasal air flow allowing easier breathing
Better airflow reduces the risk of sinus infection and "mouth breathing"
Corrects undesirable scar tissue formation from prior surgery
Reconfigures nasal tissues to a more attractive appearance
Where required, uses donor tissue (bone or cartilage) to augment nasal shape
Candidates
Ideal candidates for a revision rhinoplasty are in good physical and mental health. It is very important that every individual is "on the same page" with Dr. Sherman regarding their expected results. A revision rhinoplasty is a more complex surgery than the first. This means the procedure is longer, and the recovery period lengthier.
For patients, the key to any nasal surgery is patience. It takes many months for tissues to settle after a rhinoplasty procedure. Therefore, Dr. Sherman advises all revision rhinoplasty candidates to wait a full 12 months after their initial procedure is conducted before seeking a second surgery. This will allow him to base your treatment plan on the accurate final results of the primary rhinoplasty.
Personal Consultation
Dr. Sherman counsels every patient thoroughly before their procedure. This process starts with an initial consultation to assess the nasal structure and function. He will ask you to describe your first rhinoplasty, its recovery, and if you have any nasal obstructions that limit nasal breathing or cause you to snore. If you have had more than one rhinoplasty revision, he will inquire about the details of the second surgery, and give his honest prognosis for the outcomes of a third procedure.
Preparation
Preparing for any kind of rhinoplasty surgery involves the following. 
Cease smoking entirely at least two weeks before your surgery date.
Avoid taking blood-thinning medications (ibuprofen, aspirin, etc).
Ask a friend or family member to provide transportation to and from the office.
Schedule a suitable amount of time off work with your employer.
Revision rhinoplasty is generally an outpatient procedure. But there are certain things you will not be able to do as you are waiting for the effects of anesthesia to wear off, one of which is driving. You must be prepared to find alternate forms of transportation until you are no-longer taking prescription pain medications. We will provide a full list of written instructions well before your surgery date.
Procedure
Every individual has a unique medical history. And, your nasal surgery history is no exception. We will ensure we have incorporated every relevant detail into your treatment plan. In all cases, Dr. Sherman adapts his surgical techniques to the needs of the patient. As the revision rhinoplasty is lengthy and complexIn most cases, doctors prefer to perform them while the patient is under general anesthesia.
As there are so many factors to consider, any two revision rhinoplasty treatment plans could look very different from one-another. Your revision rhinoplasty procedure will be based on the needs identified at your consultation. Where necessary, Dr. Sherman will graft donor material to the nose for a more aesthetic and/or functional outcome. This usually involves the careful harvesting of cartilage, usually from the ear. In most cases, revision rhinoplasty requires an "open" method. For the most accurate surgery to take place, Dr. Sherman makes a small incision between the nostrils and lifts the soft tissue, revealing the underlying cartilaginous structures. Once all of the necessary changes have been made, he will suture the incision point shut.
Recovery
Revision rhinoplasties, on average, take longer to recover from than the first rhinoplasty. (4)  However, we will provide the care and information you need to recover comfortably and efficiently. You will stay with us immediately after the procedure until the anesthesia has worn off, then your designated friend or family member will pick you up from the office. 
As with the initial rhinoplasty, you should expect to see considerable swelling and bruising at first, which may distort other facial features. This distortion will gradually settle over the months ahead, but you should expect to see differences for 3-4 months.
Your recovery instructions at home may include the following.
Reduce swelling by keeping your head elevated when lying down.
Take all prescribed medications as directed. These may include pain medications, antibiotics, antimicrobial ointment, and anti-nausea medication for the anesthesia.
Continue to avoid taking blood-thinning medications until you are otherwise directed.
Rest Well at Home
It will take 1-2 weeks of recovery before you can return to most activities. Follow your individualized instructions for advice on eating, walking, and using the restroom. It is very important you refrain from straining and heavy lifting at this time. There are no dietary restrictions, but food should be liquid at first (e.g. milkshake), then progress to soft foods (e.g. mashed potato, rice pudding), then solid food.
Results
The results of a revision rhinoplasty can take 12 months or more to see. However, some patients find they can see them sooner. Dr. Sherman and his staff are available for you during your entire recovery process, and we will ensure you have follow-up appointments with us to track your progress.
Cost of Revision Rhinoplasty in Manhattan
The cost of your revision rhinoplasty is highly dependent on the type of treatment plan Dr. Sherman creates for you. Qualified patients may wish to inquire about financing their procedure. Call (212) 535-2300 to book your personal consultation. New patient consultations available Tuesdays and Thursdays, as Dr. Sherman's surgical schedule dictates. 
For a list of frequently asked questions, please see Dr. Sherman's FAQ page. You can also find out more about plastic surgery procedures in New York by reading his informative blog.
References