Neck Lift
Conveniently located to serve the areas of New York, NY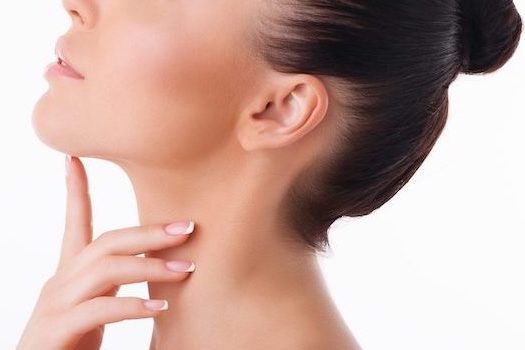 Do you notice loose, saggy neck skin or visible neck muscle bands? Perhaps your fat deposits in your neck that make you look heavier than you are. People with unflattering neck issues often feel self-conscious about their appearance.
With board-certified plastic surgeon Dr. John Sherman's neck lift (or Neck Lipectomy) process, you will be able to rejuvenate its appearance by reducing both fullness and sagging that can occur due to a number of inherited neck characteristics as well as the effects of aging.
Submental Liposuction
The ideal patient that can benefit from the submental liposuction is a patient who has local fat deposits in the neck without significant laxity of the skin and muscle. This localized fat is often called the "double chin." Neck plastic surgery takes 30 minutes or less. Scarring is practically invisible and is usually located behind the earlobe. For submental liposuction, syringe liposuction is usually used, which is less traumatic. If the patient desires, light sedation anesthesia be can be used. This procedure removes localized fat deposits under the chin and may extend to the sides of the neck. A light compressive chinstrap is used which decreases swelling. We encourage patients to use the chinstrap for 48 hours.
Our patients are discharged from the office and may go home. If a local anesthetic is used, it is like going to the dentist's office and they do not have to go home accompanied.
Platysmaplasty or Muscle Tightening
The first signs of an aging face may be the gradual loosening of the muscle in the neck, the platysma. This muscle appears to be sheet-like with one muscle belly on each side of the neck and a separation below the chin. As you get older, people often refer to the sagging platysma as a "turkey neck." The anatomy may vary from patient to patient. If your neck is out of character with the upper face area, an isolated platysmaplasty may be performed. This requires a small incision below the chin which is inconspicuous, and occasionally an incision behind the ear. This allows access to the inner and outer edges of the muscle. The muscle is redraped, and the medial (center) edge brought together and tightened.
Benefits of a Neck Lift
This procedure is one of the most common that Dr. Sherman performs because it is relatively simple. Benefits of a Neck Lipectomy / Neck Lift are plentiful. It will rejuvenate your neck and re-creating your sharp, youthful appearance you once had, as the jaw and neckline will be well-defined. Dr. Sherman's advanced techniques are specifically designed as a natural-looking enhancement that is tailored to the unique anatomy and goals of each patient. Here are some more benefits you will be able to enjoy from Dr. Sherman's neck lifting procedure:
Rejuvenation of the neck will bring confidence.
Dramatic reduction or elimination of "turkey neck" banding in the neck.
You will have a defined and contoured jawline, which is often like a sign of a youthful neck.
Dramatic improvement or complete elimination of your lax skin and wrinkles found around the neck area to promote a youthful appearance.
Correction of a double chin.
Your neck will appear longer and thus more elegant.
We can perform scar placement completely behind the ear, which is virtually invisible.
Neck lift Recovery
The neck will be bandaged to help manage swelling. It is best to keep your head elevated above your heart seeing the recovery period to help reduce swelling. Do not apply ice to the area as it can disrupt proper blood flow. Work can be resumed after two weeks, unless your job is strenuous or physically demanding.
Schedule a Consultation
Contact our office in New York City today to schedule a consultation for your neck lift. Dr. Sherman can address any questions you have about the procedure, insurance, and the cost of neck lift surgery and provide you with excellent care and results.