Chin Augmentation
Conveniently located to serve the areas of New York, NY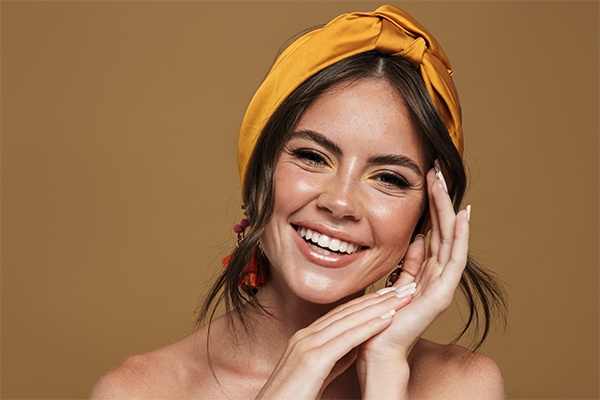 Chin augmentation, also known as genioplasty, is the surgical reshaping or enhancement of the chin. The chin's structure consists of a complicated underlay of bone and muscle, fatty tissue, and skin, however, the purpose of this bony protrusion has long been debated by scientists. In fact, humans are in fact the only species that has chins! What we do know about the chin is that it is an important part of an attractive facial aesthetic.
The proportions of the chin influence the appearance of our other facial features, and its prominence accentuates the jawline, creating a distinct border of the face. The size and shape of our chin is largely a function of genetics, and can prevent people from feeling confident about their appearance. A surgical chin augmentation can permanently improve the dimensions of a recessed or weak chin.
Board-certified plastic surgeon Dr. John E. Sherman performs chin augmentation surgery using chin implants in a quick, out-patient procedure. Contact his Manhattan office directly for an initial consultation at (212) 535-2300. Or, you can request one online by clicking here.
Before and After Photos
About Chin Augmentation
If you've always wished you had a more shapely chin, you're not alone. Chin augmentation has been performed for over a hundred years, and earlier procedures typically used cartilage taken from the patient's own body to add dimension to the chin.[1] However, the introduction of silicone implants in the mid-twentieth century improved the ease of the procedure, and the results. Silicone implants have become the widely used and preferred way to enhance the dimensions of the chin.[2]  Dr. Sherman performs chin augmentations using silicone implants, which come in a wide range of shapes and sizes. 
During chin augmentation surgery, the implant is placed via a small, inconspicuous incision. The surgeon then creates a place for the implant directly over the bone. The implant is then secured in position and the incisions are sutured closed. Based on your anatomy and aesthetic desires, your plastic surgeon will choose the best location for the incision.
Submental Transcutaneous Approach
This approach is preferred by Dr. Sherman and uses a small incision made underneath the chin. The incision is made at the submental crease, the small crease where the inner edge of the bony portion of the mandible gives way to the soft tissues. Next, a small pocket where the implant will reside is created. Once it's secured in place, the incision is closed, and any scarring is well concealed.
Intraoral Approach
During an intraoral approach, an incision is made inside the mouth behind the lower lip. While this approach eliminates any possibility of a visible scar, there is a higher risk of complications, and patients have a more demanding recovery.[1][3]
Benefits
Chin augmentation is a quick surgery that can have a profound impact on the facial profile, and overall appearance of the face. Many patients that undergo rhinoplasty also stand to benefit from a chin augmentation, as the projection of the nose and chin should be balanced. The angle created by the invisible line from the tip of the nose to the tip of the chin is carefully considered by surgeons when performing these procedures in order to achieve an aesthetically pleasing profile. Patients that undergone facelifts can find that their results are improved by a chin augmentation, as it lengthens the jawline, further smoothing its contours.[1] And while patients have options for enhancing the size of their chin, silicone implants offer several important advantages.
Advantages of a Chin Augmentation with Implants
Easily reversible, as the implant can be quickly removed
The location can be easily adjusted following surgery if placement needs to be corrected
Implants are available in different sizes and shapes, so patients can customize their results
Chin implants last for the duration of the patient's life
No need for touch-ups or maintenance as with dermal fillers
More predictable, defined results than a fat transfer 
For some patients, a chin augmentation can correct moderate cases of microgenia, the condition of having an abnormally small chin. But whatever a patient's reasons for seeking out chin augmentation, this surgery can provide a well-deserved boost in self-confidence, which can have a positive impact on all areas of their life. 
Ideal Candidates
The ideal candidate for any surgery is in good health, a non-smoker, and has realistic expectations for their results. Ideal candidates for chin augmentation have chin measurements and jaw structure that can be improved by the addition of a silicone implant. An initial appointment is needed to examine the assess your facial structure, and determine whether a chin augmentation will be an effective way to achieve your aesthetic goals. Patients should also be over 20 years of age in order to ensure that their bone structure is fully developed. 
Not all patients can obtain their desired results with a chin augmentation alone. Patients that have occlusion disorders (abnormal bite alignment), may need to consider other approaches. The chin is measured vertically and horizontally. While placing an implant can improve the horizontal dimensions of the chin, patients with a chin that is too small vertically are usually unable to improve the appearance of their chin with a simple implant.[3]
Personal Consultation with Dr. Sherman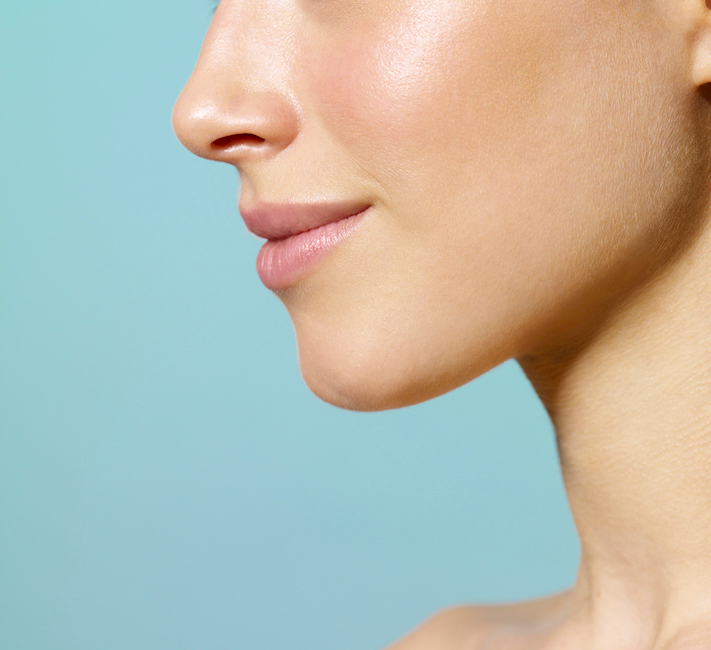 Dr. Sherman has over 35 years of experience, is recognized nationally as a leading plastic surgeon, and is a prominent and respected figure within academia and the medical community, and by the government of New York City. He is a member of several prestigious medical organizations, including the American Society of Maxillofacial Surgeons. Your personal consultation is an opportunity to work with an expert. You'll learn more about the options available, the possibilities that a chin augmentation offers, and what the procedure entails.  After reviewing your medical history, listening to your goals and concerns, and examining your chin, Dr. Sherman will be able to give you his honest recommendation for the best approach. 
If a chin augmentation, will be an effective way to meet your needs, he'll then take a series of measurements and photographs to determine the ideal amount of augmentation required and the specifications for the implant needed. Dr. Sherman will explain the procedure step-by-step so that you know exactly what to expect and can make a well-informed and confident decision.
If you're ready to pursue a chin augmentation, schedule your initial appointment with Dr. Sherman by calling his Manhattan offices at (212) 535-2300. To learn more about the other services Dr. Sherman offers, follow his blog.
Preparation
Patients will be given personalized instructions in order to prepare for their chin augmentation. These will depend on the kind of anesthesia that will be used, and other details of their procedure. You will be asked to:
Be free of health conditions that may impede the surgical and recovery process
Quit smoking cigarettes and other nicotine products in the weeks before surgery
Stop taking certain medications and supplements, including those that thin the blood
Arrange to have a trusted friend of family member drive or escort them home following surgery
Procedure
Depending on your preferences, you'll be administered local anesthesia and if desired, IV sedation to prevent any discomfort. If local anesthesia is used, patients will also take an oral pain medication half hour before surgery. On the other hand, if IV sedation is used, a board-certified anesthesiologist will be present to administer the anesthesia.
Surgical Process
Dr. Sherman will make an incision under the chin crease or inside the mouth. Conversely, an intraoral incision made behind the lower lip can also be performed for patients who prefer avoiding visible scarring. Once a small pocket is created over the periosteum, the layer of tissue that directly covers the bone, the implant is gently inserted and secured in place. Once Dr. Sherman has created the desired aesthetic, the incisions are carefully closed with sutures. Patients will have adhesive tape placed over the dressings to keep the implant in place and protect their results. Surgery typically only takes 15-20 minutes, and after being monitored for a brief period, the patient can return home. 
Recovery
Chin augmentation has a quick recovery, and patients are typically able to return to work 48 hours after their procedure, at which point the tape is also removed. Common post-surgical symptoms of swelling, bruising, and discomfort, may be felt for the first few days. Make sure to get plenty of rest and take the prescribed medication. Sutures are removed five days after surgery, and you'll return for follow-up appointments to monitor your progress and ensure that the implant is in the correct location. Please hold off on strenuous activity for a few weeks as instructed.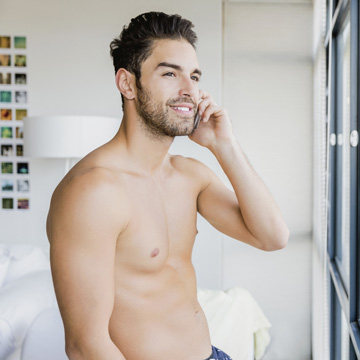 Results
Patients that undergo chin augmentation enjoy excellent, long-term results and an extremely low rate of complications. [4] After a successful recovery, you can look forward to a well-contoured chin that provides balance and symmetry for the entire face. 
Cost of Chin Augmentation in New York City
The details of your surgery will affect the final price of your chin augmentation. Dr. Sherman will provide you with an accurate quote at your initial consultation. Eligible patients who would like to finance their procedure have several options, which can be discussed at this time. 
FAQ
Do chin implants need to be replaced?
No, your chin implants do not need to be replaced. Unlike breast implants, a chin implant is made of solid silicone and can be kept in place for the rest of the patient's lifetime. This eliminates the need for additional surgeries to remove or replace the implant. 
Can I combine my chin augmentation treatment with another treatment? 
Yes, patients who want to make additional facial enhancements may combine other treatments to eliminate additional surgical appointments, costs, and recovery time. During your consultation, our medical staff will evaluate your concerns and develop a treatment plan tailored to your needs.
Does a chin augmentation cause scarring? 
Incisions made during chin augmentation will be in discreet locations such as inside the mouth or hidden in the crease underneath the chin. Any scarring is nearly invisible.
Will a chin augmentation hurt?
A chin augmentation is performed with adequate anesthesia to eliminate any discomfort during surgery. You may feel slight discomfort during the first few days of your recovery, but this can be easily managed.
References