Rhinoplasty
Conveniently located to serve the areas of New York, NY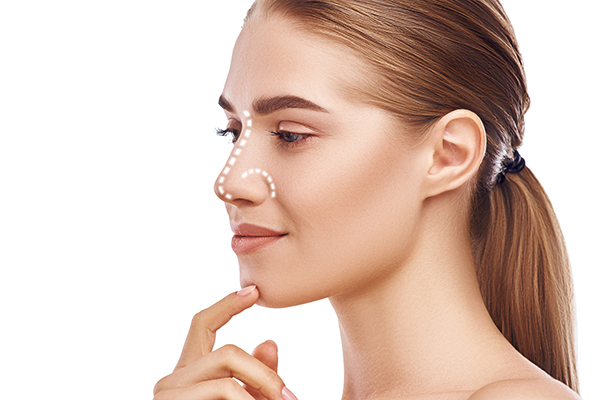 If you are unhappy with the shape and appearance of your nose, rhinoplasty may be the solution you are looking for. Rhinoplasty can be performed to address a wide variety of concerns you may have with the appearance of your nose. Board-certified plastic surgeon Dr. John Sherman has performed numerous rhinoplasty procedures on both men and women and can provide you with natural-looking results.
Before and After Photos
What Is Rhinoplasty?
Rhinoplasty, also referred to as a nose job or nose reshaping, is one of the most commonly performed operations in the United States.(1) It's also one of the procedures that Dr. Sherman performs most frequently. Over the past 30 years, he has operated on countless patients desiring cosmetic improvement as well as functional improvement of the nose.
The result of the operation is dependent on two factors:
The anatomy and cosmetic goal of your operation
The experience of the surgeon and his or her familiarity with all techniques. Just as the concept and goals of rhinoplasty have evolved over the past hundred years, so should the procedures of the surgeon throughout his or her practice. (2)
Dr. Sherman and the entire team of medical professionals at Dr. Sherman's plastic surgery and cosmetic surgery center in New York City are dedicated to providing you with the outstanding care and results you are looking for.
Benefits of a Rhinoplasty in Manhattan
Our goal is to refine the nose, addressing the individual needs of each patient, in a conservative fashion. The procedure includes an improvement in the aesthetic appearance of the nose, as well as the restoration of nasal function if required. We treat each patient individually, avoiding the "cookie cutter" rhinoplasty look, which was so prevalent in the past.
The goals of the teen seeking nasal improvement may be very different than that of the 40-year-old seeking the same procedure. The aesthetics are entirely different from each other. In particular, the nature of the skin envelope and anatomy is entirely different from patient to patient.
To help you reach a satisfactory result, Dr. Sherman will spend considerable time with you to help you define the aesthetic goals of your rhinoplasty. This may include a second visit to the office to further define your goals. We do not use computer imaging to visualize the proposed changes. The computer imaging, which is just a Photoshop-like program, can show you the potential outcome, should you opt to have the operation. However, it will not address your individual anatomy, your skin type, and most importantly, the ability of the surgeon to realize these goals through surgery.
Procedure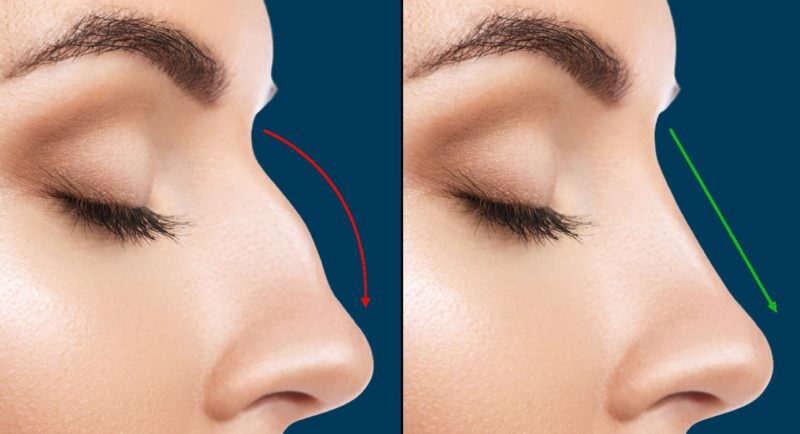 Every nose is different, and every nose surgery is different.
Nasal surgery may be performed in our fully accredited office or in the hospital. The choice of facility depends on your age, your general health, and any additional procedures that may be performed at the same time. If the operation is performed in Dr. Sherman's fully certified office operating suite in New York City, it is performed on an outpatient basis. You will leave the office approximately 1-2 hours after the procedure.
How Much Does a Rhinoplasty Cost in New York City?
The cost of your rhinoplasty procedure will depend on several factors. Each rhinoplasty procedure is highly personalized to suit the specific needs of each patient. Different techniques are required and the amount of work varies. Cosmetic rhinoplasty is not covered by insurance. Insurance can cover septoplasty for patients who need to undergo surgery to improve their breathing. Financing options are available to help with the payment process. If performed in the hospital, Dr. Sherman is on staff at the New York Presbyterian Hospital-Weill-Cornell University Medical Center (Rated the Best Hospital in NY, US News and World Report), and Manhattan Eye Ear and Throat Hospital.
Rhinoplasty Approaches
Closed Rhinoplasty
This approach is used in approximately 50% of our patients. Because of Dr. Sherman's 30+ years of extensive closed-rhinoplasty experience with this operation, he is able to visualize all the structures, and predict the outcome of the procedure. The advantage of the endonasal approach is less swelling and the lack of an external scar. However, there are indications for an open approach (external rhinoplasty).
External Rhinoplasty
Dr. Sherman prefers an open approach (external rhinoplasty) if there is an indication for cartilage grafting, or if the nose needs straightening, or if there is a significant airway problem. A small incision is made across the columella, exposing the anatomy below. The advantage of this approach is that it allows precise placement of cartilage grafts, if necessary, and better visualization of the underlying anatomy.(3)
Septoplasty
Septoplasty may be performed at the same time as a cosmetic rhinoplasty. The septum is the wall that is located between the two nostrils. Often, the septum is injured in accidents, causing it to obstruct one or both sides of the nasal passageway. This may have occurred during adolescence in an athletic event which may not have been appreciated at the time of injury. Dr. Sherman has been performing functional airway correction throughout his career, emphasizing both function and aesthetics.
Dr. Sherman will correct your septum at the same time as he performs the rhinoplasty, thus improving your breathing. If your nose simply has an obstruction and you do not desire a rhinoplasty, the septoplasty can be performed without it. The advantage of a septoplasty performed alone is that there is no bruising to encounter; however, if the nasal fracture must be corrected at the same time, there will be bruising.
The nasal fracture and septoplasty can be performed by restoring your nose to its pre-injury appearance. This is not rhinoplasty, but is reconstructive in nature.
What Kind of Anesthesia is Used for Rhinoplasties?
Our anesthesiologist is a board-certified, fully accredited, experienced physician. Rhinoplasty is usually performed under deep intravenous sedation anesthesia or general anesthesia. Over the past few years, we have realized that the most important aspect of this procedure is maintaining the patient's airway to minimize any complications. Therefore, most procedures are performed with some type of airway in place: either a laryngeal mask airway (the soft tube that goes to the larynx) or an endotracheal tube. Dr. Sherman will discuss each of these with you at the time of consultation. The goal is safety as well as maximizing the aesthetic result of the procedure.
If you are traveling to New York City for surgery from outside the city, we can help schedule your hotel reservations and care.
Rhinoplasty Recovery
Like other procedures, the patient will leave the office with a friend or relative and return home or to the hotel. It is essential that ice compresses be applied to your eyes to minimize bruising in the early postoperative period.
Rhinoplasty New York
Your downtime may vary according to the complexity of the operation and your goals. Bruising may also vary, but is almost totally gone by 10-12 days after your rhinoplasty. If still present at that time, you may apply a light cover-up makeup to conceal any remnant of the discoloration. When you leave the office, a splint will be placed over your nose which will be removed at roughly 6 or 7 days after surgery. This minimizes the chance of the nasal bones to move during healing. Equally important, you may not put eyeglasses over your nose for 3 weeks after surgery, after the splint is removed.
We ask that you refrain from exercise for 3-4 weeks after rhinoplasty. Jarring activities such as running should be avoided for at least 1 month after surgery to avoid displacement of the nasal bones.
Will Insurance Cover My Rhinoplasty?
Reimbursement after a rhinoplasty or septoplasty may vary depending on your insurance carrier. Generally, each company will provide some type of reimbursement if there is a degree of difficulty in breathing, and is clearly documented. Each area may require different documentation. We will work with your insurance carrier to determine the pre-certification that may be necessary. If your insurance company does give precertification, you receive reimbursement direct from the insurance company for both the surgeon's fee and anesthesia. However, it may not cover the entire cost of these fees.
Types of Nasal Procedures Often Covered:
Septoplasty surgery
Correction of nasal fractures (either early or late)
Reconstruction of nasal deformities with cartilage grafts to correct breathing problems.
It is our policy to help you contact your insurance company to help you predetermine your benefits, and pre-certify your surgery if it is non-cosmetic.
In order to produce the best results for each patient, Dr. Sherman utilizes his extensive surgical knowledge and decades of experience. For more information about rhinoplasty or other plastic surgery procedures, please feel free to contact our office today.
Schedule a Consultation
If you are interested in rhinoplasty, contact our office today to schedule a consultation with Dr. Sherman. he can answer any question you may have about the procedure, go over what to expect during your recovery, and let you know if rhinoplasty is a good choice for you. Our team is dedicated to providing you with amazing results from your rhinoplasty in New York City.
FAQ
Am I a good candidate for rhinoplasty?
If you are unhappy with the general appearance of your nose would like to refine or improve its appearance you would benefit from a rhinoplasty. If you have been injured in the past, and the appearance of your nose has changed, rhinoplasty can also be beneficial. Dr. Sherman offers rhinoplasty for men and women.
Some patients who are unhappy with the appearance of their nose are also apprehensive about undergoing surgery. While some places do offer non-surgical rhinoplasty using fillers, also known as liquid rhinoplasty or a liquid nose job, these options do not offer permanent results and are not capable of providing the same level of results.
Is a rhinoplasty procedure painful?
Rhinoplasty is performed under a deep intravenous sedation anesthesia or occasionally with a general anesthetic. During the recovery process, swelling and bruising are to be expected, and the 1st night after surgery is often uncomfortable. On the pain level scale, the pain level is a 2 out of a total score of 10. Most patients are easily managed with one night of pain medication, returning to simple Tylenol the next day.
What if I have breathing problems for nasal obstruction?
Strictly speaking, rhinoplasty is used to enhance the cosmetic appearance of your nose. In a significant percentage of patients, breathing abnormality's and nasal obstruction are also present. In these patients, the correction of nasal obstruction will also be performed. This nasal obstruction can result from previous trauma causing septal obstruction "deviated nasal septum" or from allergies causing hypertrophy of the turbinates. This relief of nasal obstruction can be performed separately if you do not want the appearance of your nose change, or at the same time as a rhinoplasty.
How long will the procedure take?
The procedure usually takes anywhere from 1 to 1 ½ hours.If there is a simultaneous need for correction of breathing problems, it will take slightly longer. The time varies with the extent of structural and aesthetic changes being made to the nose.
How long will it take to recover my rhinoplasty?
We usually tell patients that it takes about 12 days to return to work without difficulty. If you bruise easily, it may take up to 2 weeks. The final result of rhinoplasty is not reached until approximately 10 to 12 months after surgery. The last few months of this time changes are very minimal. The vast majority of changes and improvements occur within the 1st 4 months of surgery.
References
Nellis, J. C., Ishii, M., Bater, K. L., Papel, I. D., Kontis, T. C., Byrne, P. J., Boahene, K. D. O., & Ishii, L. E. (2018). Association of Rhinoplasty With Perceived Attractiveness, Success, and Overall Health. JAMA Facial Plastic Surgery, 20(2), 97. https://doi.org/10.1001/jamafacial.2017.1453
Dayan, E., & Rohrich, R. J. (2020). Developing Consistency in Rhinoplasty. Plastic and Reconstructive Surgery – Global Open, 8(4), e2679. https://doi.org/10.1097/gox.0000000000002679
Scattolin, A., & d'Ascanio, L. (2013). Grafts in "closed" rhinoplasty. Acta Otorhinolaryngologica Italica, 33(3), 169–176. https://www.ncbi.nlm.nih.gov/pmc/articles/PMC3709525/