Breast Augmentation
Conveniently located to serve the areas of New York, NY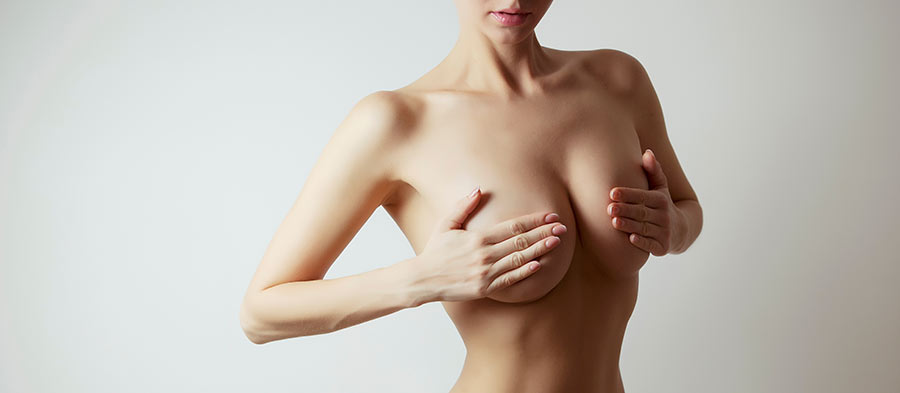 Breast augmentation is a breast surgery that enhances the volume and shape of the breasts. This procedure remains one of the most frequently performed cosmetic surgeries in the United States. Breast augmentation has afforded many women the opportunity to achieve their ideal breast profile.
Dr. John E. Sherman is an experienced and acclaimed plastic surgeon renowned for his commitment to patient care and excellent results. He works closely with prospective patients to develop an individualized approach so that they can enjoy the beautiful breasts they desire.
Take the first step by scheduling an initial consultation. Call us at (212) 535-2300 or book your appointment online.
Before & After Photos
Before and After Photos
About Breast Implants
Breast augmentations are one of the top five cosmetic procedures in the United States, and have been for nearly the past 20 years. As the American Society of Plastic Surgeons also reports, in 2020 alone, nearly 200,000 women underwent breast augmentation – despite the onset of a global pandemic.[1] The desire for fuller, shaplier breasts is here to stay. The first silicone implants were developed in the early 1960s by Dow Chemical, and saline-filled implants were soon followed in 1965 by Laboratoires Arion in France. Since then, the breast implant underwent many important modifications and improvements. This included the thickness of the shell, and the viscosity of the silicone gel inside. Today, silicone breast implants are approved by the FDA, and safer than ever.[2] They are also the most frequently chosen by women: in 2020, approximately 84% of all breast augmentations in the United States were performed with silicone implants.[1]
Ongoing Improvements
Further refinements lead to the development of cohesive silicone gel implants in the 1990s. Scientists sought to create a breast implant that featured better projection and could be manufactured in a larger range of dimensions. Eventually, they were able to develop a silicone gel that was thick enough to keep its form and would eventually MINIMIZE****the risk of leakage if the implant became compromised. Cohesive silicone gel breast implants are also known as gummy bear implants. These are increasingly popular because of their ability to provide a natural and proportionate breast shape and feel. They feature an extensive variety of shapes and sizes that can mimic most breast shapes and fit a wider range of chest dimensions.[2]
Dr. Sherman worked closely with Allergan, the leading name in cosmetic pharmaceuticals and devices. He was a select investigator during the original development of the Natrelle 410 Cohesive Gel Breast Implants. These FDA-approved devices feature an anatomically shaped silhouette, with contours that closely resemble the curve of a woman's breast. They are popular choices for augmentation and women seeking breast reconstruction.
Dr. Sherman has a deep and thorough understanding of the nature of these implants, and will be able to go over all the benefits as well as anything else you need to know if you are looking to use these anatomically shaped implants.
Choosing Your Breast Implants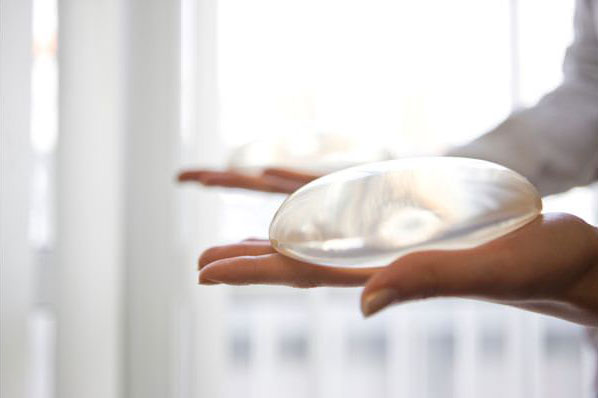 Material
Saline implants are placed in the breast pocket and are filled to the patient's desired volume during the procedure. Silicone implants are pre-filled and produced ready to be inserted.
Deciding on the ideal implant is an essential step in the process, but considerations extend far beyond just the implant material.
Shape
Patients also choose the shape of their implants. Round implants are frequently chosen for their ability to add volume higher on the chest. Anatomical implants are teardrop-shaped and have a slight slope to replicate the form of the natural breast.
Size
It's important to keep in mind that implant sizes are measured in cubic centimeters, not bra cup size. The implant size that allows you to achieve your ideal breast size will depend on the amount of breast tissue you have before undergoing an augmentation, and your desired results. Sizes range from 120cc to 800cc. Breast implants also come in various widths and heights in order to best harmonize with a woman's natural proportions and create the desired effect. They also come in a range of different projections. The projection of an implant determines how far the implant extends from the chest. High-profile breast implants are suitable for women looking to make a statement, while a smaller projection is better for women seeking a more subtle effect.
Texture
Texture is another consideration, and can affect the implants' performance over time. A textured surface allows the tissues to heal more closely around the implant, and prevents the implant from rotating or becoming displaced. If this all seems like a lot, there's no need to feel overwhelmed. Dr. Sherman works closely with each of his patients to identify the implant specifications that will deliver optimal results.
Meaningful Benefits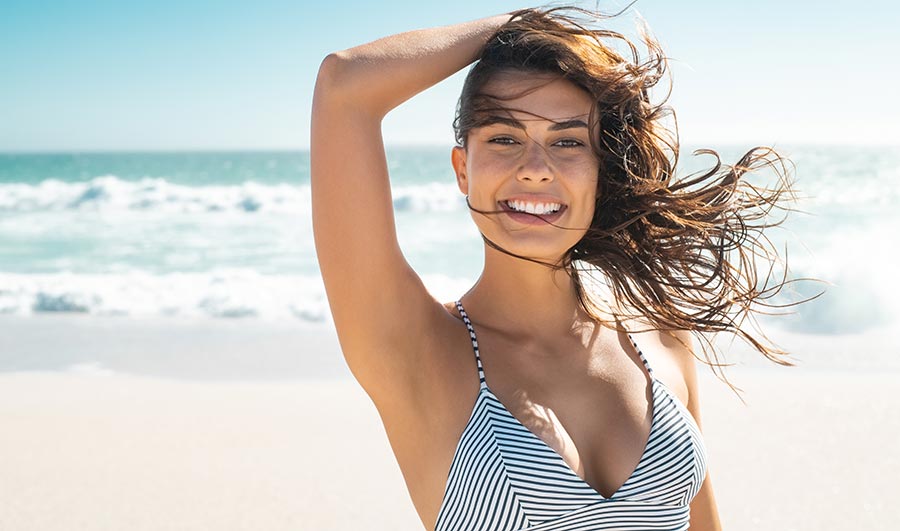 With all the choices available, a breast augmentation can be tailored to precisely meet a patient's desires. But breast augmentation goes beyond choosing an implant – it lets women choose how they want to present themselves to the world. Depending on the patient's goals, this transformative procedure can boost self-confidence, turn back the clock, and open the door to a whole new wardrobe.
Breast implants have been known to help lessen the appearance of pectus excavatum. With this congenital disorder, the chest becomes sunken in, causing a concave depression. Also referred to as "funnel chest," this condition can often have a negative effect on a person's self-confidence, and breast augmentation surgery can help remedy this.
Possible Complications
Each year over 1.5 million breast implants are implanted worldwide for breast augmentation. And while the majority of patients are able to enjoy their implants in perfect health, there are a small percentage of patients that experience complications.
BIA-ALCL
Over the past few years, researchers have found that women with breast implants may have a small but increased risk of developing breast implant associated anaplastic large cell lymphoma (BIA-ALCL). While the actual number of cases worldwide is not confirmed, it appears to be approaching 400 cases. This is not breast cancer, but rather a form of non-Hodgkin's lymphoma that can be effectively treated. While research continues, it appears to be associated with implants that are textured and in patients who develop a seroma (accumulation of fluid around the breast). To this date, there have only been two cases associated with smooth implants, and those patients had previously placed textured implants. With this worldwide alert, the database is expanding, with ALCL registries and recommendations for treatment.
Breast Implant Illness
Breast Implant Illness (BII) is a term used to refer to a broad variety of symptoms that women report after having implants placed. These symptoms include memory loss and "brain fog," joint pain, and fatigue. However, the cause of these symptoms and their link to synthetic implants is poorly understood, and still being investigated.
Candidates
Many of our patients who desire breast implants are in their early twenties and thirties. Other patients are women who have lost breast volume due to pregnancy and are looking to restore their pre-pregnancy breast size, so Dr. Sherman frequently performs breast augmentation surgery on women throughout their forties as well. This can be performed at the same time as an abdominoplasty (tummy tuck) as part of a mommy makeover.
Women in good health are typically suitable patients for breast augmentation. A one-on-one consultation with Dr. Sherman will determine whether you are an ideal candidate.
The Ideal Breast Augmentation Candidate
Healthy and without breast-related health concerns or other underlying health issues
A non-smoker or willing to quit until completing recovery
Understands what the surgery entails and is willing to follow pre and post-op instructions
Not currently pregnant or breastfeeding
Has realistic expectations for what the procedure can achieve
Is aware of the risks and benefits associated with synthetic implants
Your Personal Consultation in New York City
A consultation with Dr. Sherman is your opportunity to discuss your aesthetic goals with an expert. Together, you will go over the details of the procedure and discuss implant options to determine the implants that will best suit you. Before approving you for a breast augmentation, Dr. Sherman will review your medical history and examine your breasts, taking measurements, noting your existing breast shape and any skin laxity or ptosis. He will be happy to answer any questions so that you can make confident decisions. Dr. Sherman will then devise a personalized treatment plan and explain the details of your surgery. We'll schedule your surgical appointment and provide detailed instructions so that you're well-prepared for your procedure.
Get started by calling (212) 535-2300 to make an appointment. Additionally, out-of-town patients can conduct their consultation online by scheduling a virtual meeting.
Preparation
It is essential to plan carefully for your recovery period and follow your pre-operative instructions. Before a breast augmentation, patients are advised to:
Quit smoking or using any nicotine product. Nicotine may significantly impact your ability to heal after your treatment.
Taper off current medications or supplements that may increase bleeding. These include blood thinners, ibuprofen, vitamin E, and St. John's Wort.
Arrange to have a trusted family member or friend pick you up from our office.
Designate a comfortable space to recover at home and place necessary items within reach.
Designate 2-3 weeks to rest and recuperate.
Procedure
Breast augmentation patients will have their procedure performed at our accredited surgical facility or a nearby hospital. Breast augmentation is an outpatient procedure and typically takes 1-1.5 hours to perform. Our board-certified anesthesiologist will administer you either general anesthesia or intravenous sedation anesthesia, depending on your preferences.
Incisions
Once the anesthesia has taken effect, Dr. Sherman will make small incisions to create a small pocket for the implant. To accomplish this, he will either make a small inframammary incision (under the breast), a periareolar incision (around the areola, the area around the nipple)or a transaxillary (under the armpit) incision. There are advantages and disadvantages of each incision .[3] The breast implants selected, as well as the goal for size, shape, and placement, will play a role in where the incision is made. Each approach has advantages and disadvantages, and the best incision location depends on the patient's unique case.
Implant Placement
Next, the implant can be placed either submuscular plane (under the pectoral muscles) or subglandular (above the pectoral muscles). Where your implants are placed will depend on your anatomy, age, and vocation. Patients exhibiting signs of ptosis or sagging skin will typically have their implant placed subglandularly.
End of Procedure
Once Dr. Sherman perfects the desired enhancements, he will close the incisions with sutures. He will then wrap the area with a compression garment to protect your results. You will stay in our recovery area until you feel comfortable returning home. If you are coming from more than an hour outside of New York City, you should remain in New York City overnight, so that Dr. Sherman could see you if the need arises. Suture removal is usually one week after your breast augmentation.
Recovery and Results
In the initial days after your surgery, it's normal to experience moderate symptoms of fatigue, discomfort, swelling, and bruising. You'll be given a prescription for pain medication to help ease discomfort, which is usually most pronounced during the first few days. You will also be provided with a surgical compression bra that you will wear for the next few weeks as you heal. In 2-3 weeks, your symptoms will have subsided enough for you to resume light activities and work. At 6-8 weeks, you can continue more strenuous activities, including going to the gym. By this point, swelling will have subsided significantly.
Although your breasts may still feel overly firm and tight, within a few months, your implants will have settled into place, and you'll be able to celebrate your final results.
Corresponding & Complementary Procedures
During your personal consultation, we may discuss other treatments that will help enhance the results of your breast augmentation.
Breast Lift
Many patients include a lift treatment with an augmentation to enhance the size of their breasts as well as improve their overall shape and reduce breast sagging. Dr. Sherman will remove lax breast tissue to sculpt larger breasts that also sit higher on the chest for a perkier, firmer, and more youthful appearance
Cost of Breast Augmentation in New York City
Your unique anatomy and aesthetic goals determine the details of your surgery and the associated costs. As a result, the price of a breast augmentation varies slightly from patient to patient. We'll break down your anticipated costs following your consultation. Eligible patients have several options for financing their procedure. Patients can contact our office to learn more.
References
American Society of Plastic Surgeons. (2021). 2020 National Plastic Surgery Statistics. https://www.plasticsurgery.org/documents/News/Statistics/2020/plastic-surgery-statistics-report-2020.pdf
Coombs, D. M., Grover, R., Prassinos, A., & Gurunluoglu, R. (2019). Breast augmentation surgery: Clinical considerations. Cleveland Clinic Journal of Medicine, 86(2), 111–122. https://www.ccjm.org/content/86/2/111
Brown, M. H., Shenker, R., & Silver, S. A. (2005). Cohesive Silicone Gel Breast Implants in Aesthetic and Reconstructive Breast Surgery. Plastic and Reconstructive Surgery, 116(3), 768–779. https://doi.org/10.1097/01.prs.0000176259.66948.e7