Short Scar Facelift
Conveniently located to serve the areas of New York, NY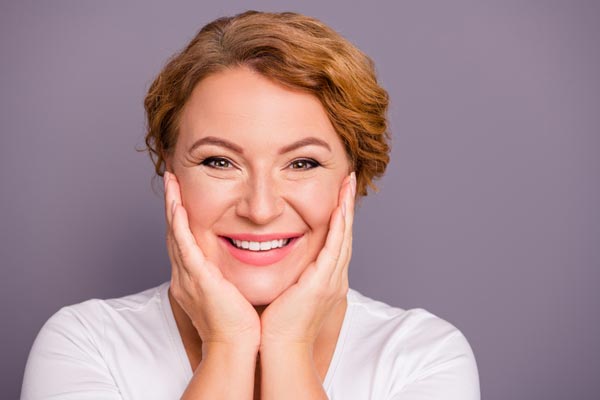 A short scar facelift is also known as a mini facelift and a limited incision rhytidectomy. Like a full facelift, it is an effective, long-term way to eliminate excess skin; restore contours affected by the aging process; and smooth lines, wrinkles, and sagging. However, as the name suggests, this procedure utilizes a smaller incision and is suitable for those looking to address moderate signs of aging in the lower face. The smaller incision also lends itself to a less invasive procedure and a shorter recovery time. If you're troubled by sagging along your jawline, and are craving a firmer, refreshed appearance, but are hesitant to commit to a more extensive surgical procedure, a short scar facelift might be just the thing.
Facial surgeries must be carefully tailored to the unique needs and anatomy of the patient, and Dr. John E. Sherman has over 35 years of experience giving patients transformative yet natural-looking results. To learn more and find out whether a short scar facelift is right for you, schedule a personal consultation. Call (212) 535-2300 to reach Dr. Sherman's Manhattan offices, or fill out a convenient online form. 
About Facial Aging
There's nothing simple about the aging process. And when it comes to facial aging, the biological processes that are to blame go much further than just skin deep. As our largest organ, the skin is subjected to a constant barrage of damaging UV rays, pollution, and lifestyle choices. All the while, genetics, hormones, and the decline of important structural proteins like collagen and elastin take their toll. (1) Besides the onset of lines, wrinkles, and sagging, the tissues that give our face its unique characteristics are also changing. The multiple pads of fat that form the contours of our face atrophy and descend, and our facial muscles weaken. And, on the very deepest level, the bone structure of our face begins to change.
Thankfully, many of the changes that occur in the face due to aging can be effectively controlled by talented plastic surgeons. The latest techniques and surgical advances allow for precise alterations to the essential underlying facial tissues.
How is a Short Scar Facelift Different?
Over 125,000 facelift procedures are performed in the United States alone each year.(2) And, like many other surgical procedures, there are technical adaptations surgeons can make to suit individual treatment goals. The short scar or limited incision facelift is an increasingly popular facial rejuvenation procedure – with good reason. 
The Traditional Facelift
Traditional facelift procedures require incisions that extend from the temples, around the ears, to the upper side of the neck, allowing for the careful repositioning of underlying facial tissues. A full facelift is best suited to patients who want to enhance the appearance of larger areas of the face as well as certain areas of the neck. But for those concerned with maintaining a youthful appearance for the lower half of their face, a short scar or mini facelift can achieve important changes.
The Short Scar Facelift
The short scar facelift is an efficient anti-aging procedure for patients who primarily wish to improve the features of their lower face. Common problems include the development of jowls and sagging cheeks. Patients may also wish to tighten the skin around the mouth and lower cheek for a more defined jawline. With shorter, discreet incisions focused around the ears, Dr. Sherman can ensure you get the best results with minimal scarring.
Benefits of Mini Facelift
Over the years, modern facelift techniques have become more and more refined. This is because surgeons now have a far clearer understanding of a key anatomical structure: the superficial muscular aponeurotic system (SMAS). Being able to identify and reposition this crucial layer of tissue has led to more comprehensive approaches to surgical rejuvenation and more natural-looking results. Today's facelift procedures and their variations have far exceeded the overly tight, "windswept" looks of old. Plastic surgeons are now able to accurately reposition the SMAS and can make even the subtlest of changes to create the desired look for every patient. By redraping the facial skin with expert precision, they can avoid the appearance of overly tight or unnatural-looking results entirely. (3) What's more, with a mini rhytidectomy there are no lengthy, noticeable scars, and results last far longer than what can be achieved with fillers and other minimally-invasive facial rejuvenation techniques. The short scar facelift is a worthwhile endeavor for those looking to reduce their downtime.
Dr. Sherman can perform your short scar facelift and provide tailored results according to your unique facial anatomy.
Short Scar Facelift Candidates
The best candidates for a short scar facelift are men and women who want to improve signs of aging in the lower face through a surgical procedure. Most people who get facelift procedures are between the ages of 40 and 60. Although facelift procedures can be performed on those under 40, they are usually more effective in addressing more prominent signs of aging that appear later in life. Patients looking to undergo a mini rhytidectomy should:
Be in good overall health
Be a nonsmoker
Want to improve sagging jowls
Want to tighten and refine their jawline
Have good skin elasticity
Not be concerned by extensive skin laxity in the neck
If you're ready to move forward with rejuvenating your face, and would like to find out more about short scar facelifts, speak to Dr. Sherman at a private consultation. You can reach his Upper East Side offices directly by calling (212) 535-2300, or by filling out our inquiry form online for further information. 
Personal Consultation
Dr. Sherman's beautiful offices overlook Central Park, and his patients enjoy a discreet yet compassionate environment for personal consultations. As you discuss your goals for surgery, Dr. Sherman will take time to get to know the issues you'd like to improve and review the key aspects of treatment. He will perform a thorough examination of your unique facial anatomy, signs of aging you wish to improve, and the elasticity of your skin. He will then be able to advise you on the best course of action. If you are a suitable candidate for a short scar facelift, we will arrange the individual details of your treatment and schedule your surgery.
Preparation
Dr. Sherman gives every facelift patient a thorough written account of what they must do to prepare for their surgery. If you have any questions or concerns about these instructions, simply call the office during regular business hours.
Dr. Sherman's YouTube channel is a great resource for patients who want to see how he performs delicate surgical techniques.  So, if you want to learn more about facelifts, and want to better visualize the procedure, please watch his 10-minute guide. By watching him perform this precise, highly patient-specific surgery, you will see a first-hand example of the intricacies of a facelift with expert narration from the surgeon himself.
Short Scar Facelift Procedure
Everyone, regardless of their age or gender, has a unique facial structure. And, signs of facial aging also appear in unique ways. A limited incision facelift procedure is tailored to the needs of each patient. However, all facelift procedures comprise three key stages:
Mobilization of Tissues
Tissue Repositioning
Fixation
Dr. Sherman uses an incision pattern known as limited retrotragal incisions. These incisions begin below the earlobe, run alongside the inner edge of the tragus, and end at the hairline of the sideburn. Using specialized tools, he will then access the deeper tissues and alter them as necessary to achieve a younger-looking facial appearance. Once all of the necessary subdermal areas have been reconfigured, he will lift and tighten the skin of the face by adjusting it at the necessary angle.
By manipulating and refining the areas of concern, skillfully tightening and lifting tissues, and carefully suturing the area shut, Dr. Sherman will achieve your desired results.
Recovery & Results
After a short scar facelift, Dr. Sherman will apply a light dressing to secure the area. He will provide a comprehensive list of instructions to follow during the recovery period, and schedule follow-up appointments to monitor your recovery. Following your at-home instructions closely will ensure that your healing process is as straightforward and as comfortable as possible. Though every patient is different, a mini rhytidectomy requires far less downtime than a full facelift. In some cases, patients are back to their regular schedules in as little as one week. However, there will still be some swelling and bruising. Dr. Sherman advises waiting 3-4 weeks before resuming more vigorous exercise.
You will start to see your final results once the temporary swelling and bruising subsides. Most patients will start to look and feel back to normal after around a month. Once your face has recovered fully, smoother, tighter facial skin will allow you to enjoy a younger-looking, more refined lower face.
Cost of Short Scar Facelifts in Manhattan
As every patient's facial anatomy is distinctly individual, all facelift and short scar facelift surgeries follow a personalized treatment plan. The cost of a mini facelift will therefore vary in cost. Financing for a short scar facelift procedure may be available to qualified candidates.
Be sure to see our information for Out of Town Patients if you will be visiting Dr. Sherman from outside Manhattan.
References
Ganceviciene, R., Liakou, A. I., Theodoridis, A., Makrantonaki, E., & Zouboulis, C. C. (2012). Skin anti-aging strategies. Dermato-Endocrinology, 4(3), 308–319. https://doi.org/10.4161/derm.22804 
Rohrich, R. J., Sinno, S., & Vaca, E. E. (2019). Getting Better Results in Facelifting. Plastic and Reconstructive Surgery – Global Open, 7(6), e2270. https://doi.org/10.1097/gox.0000000000002270